INTERESTED IN MAKING YOUR OWN WINE?
**BY APPOINTMENT ONLY**
Have you thought about making your own 6-gallon vintage with your own personal labels? You can do that at Buckeye Winery. Your vintage will take 4-8 weeks to turn from a high quality juice to a wonderful wine. Come make wine as a group or by yourself. But either way, come enjoy the Buckeye Winery Experience!
Wine by the batch gives you 28-30 bottles of great-tasting wine, all in 750 ml bottles except for Ice Wine and Port which are in 375 ml bottles. Finished wine prices range anywhere from $6.30 to $8.90 per bottle, depending on the type of wine you decide to make. Prices DO include standard bottles, corks, shrink capsules, and personalized labels.

You can also customize a SINGLE bottle of wine. A personalized bottle of wine makes a great birthday, wedding, or college graduation gift. Your personalized label design is only limited by your imagination. Whether you add a favorite saying or photo, no matter the occasion, we can create that special label for that special someone.
STEP 1
DECIDING YOUR VARIETAL
Sit down for lunch or dinner and sample a few of our 50+ wines. After you've tried samples of our high quality wines and found one of your favorites, the process begins in our winery. All our wines come from premium juices selected from around the world. Yeast and other quality ingredients are added to the proper juice. We then continue to watch and rack your wine throughout the fermentation process.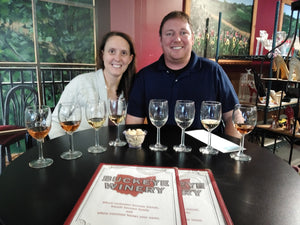 STEP 2
CHOOSING A LABEL
Once you've selected your wine, we will begin to prepare the ingredients for you. In the meantime you will look at our extensive label collection templates. You will choose a label design that appeals to you and write down what you would like it to say (we provide examples of text on the labels). Use your creativity to customize your label for special events such as weddings, anniversaries, retirements, business promotions, gifts or just keep your wine for yourself and create a label that expresses the "true" you.
STEP 3
MAKE YOUR WINE
The next step is to stir up your own batch. It takes about 15-20 minutes as we assist you through the processes including adding the juice, yeast and other quality ingredients. After that we will continue to watch and rack your wine for the 4-8 weeks until it is ready for you to bottle.
During this time we design your labels on the computer. When it is ready to bottle, we will call you to schedule an appointment.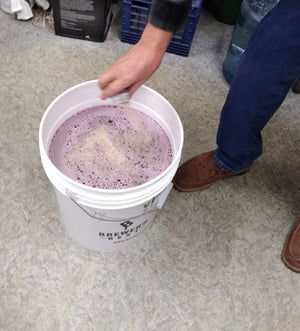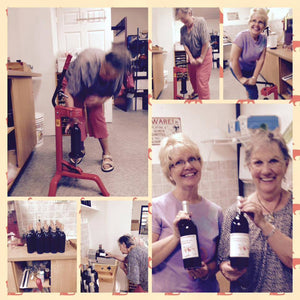 STEP 4
BOTTLING, CORKING, LABELING, AND SHRINK CAPSULES
Now that your wine is finished, it is time to bottle.
This process will take approximately 1 hour.
First we will have you proof your labels on the computer and then we will start printing them.
You will sanitize your bottles, fill the bottles, cork the bottles and apply your labels. All while sampling your great wine. The final step is shrinking on the capsules. This will give you that professional looking bottle of wine.
TIME TO CHOOSE
Please call to schedule a winemaking appointment.