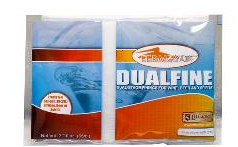 Use as a dual stage clearing aid for beer, wine & spirits. Contains Chitosan & Kieselsol.
When you want to get the clearest wine, beer, cider, or spirit possible, the best solution is using Dualfine Dual-Stage Clearing Aid by FermFast. This two-stage clearing additive provides excellent results with virtually any beverage within a short period of time.

What's best about Dualfine is that it works after the fermentation has been performed, so you will be able to see the effects right away.